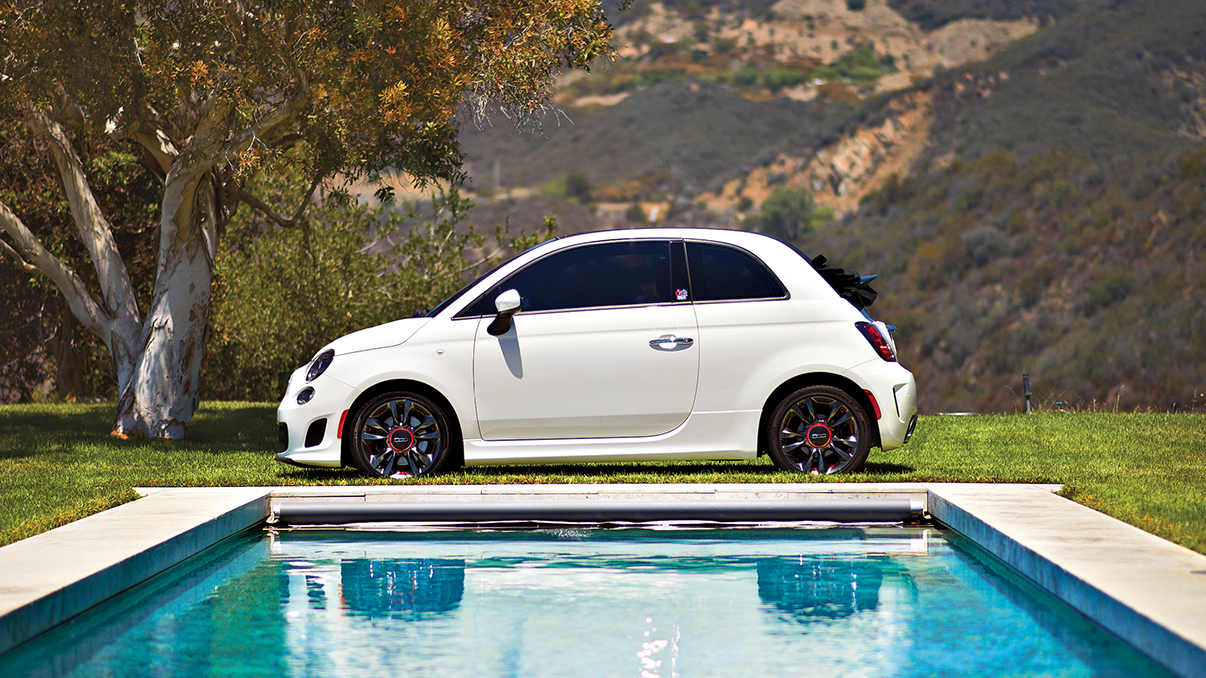 Infused with fuel efficiency and Italian style
For more than 50 years, the Fiat 500's beautiful Italian styling—combined with its hallmark attributes: timeless functionality, efficient design and innovative technology—have been iconic. The model's multiple varieties, including the Fiat 500 Cabrio (500c) and 500 Turbo models, has continually provided Americans with a unique combination of style, European handling, technology and personalization options at an incredible value.

Continuous improvements to style and functionality
For 2014, Fiat 500c models included a revised passenger seat that sits 1 inch (25 mm) lower for increased headroom. And, for even more comfort and convenience, the passenger seat includes an arm rest, along with seat position memory with the tilt/slide handle.

An EPA estimated 40 mpg highway
For the individual who wants Italian style and maximum fuel efficiency, the 2014 Fiat 500 and 500c deliver 31 mile per gallon (mpg) city and 40 mpg highway with the innovative 1.4-liter MultiAir engine and five-speed C514 manual transmission.
Beats by Dr. Dre audio system offers passengers of the Fiat 500c a high-definition music experience the way the artist intended. The Beats Audio studio-quality sound system includes six premium speakers, an eight-inch dual-voice coil (DVC) subwoofer with trunk-mounted enclosure and eight-channel 368-watt amplifier with Beats Audio digital sound processing (DSP) algorithm.

The amplified 2014 Fiat 500c are infused with style, technology and convenience features to make life on the go more personalized and comforting.

Designed for the individual who wants Italian style, efficiency and personalization options, the 2014 Fiat 500c Pop model includes a five-speed manual transmission, 15-inch steel wheels with chrome-accented wheel covers and all-season tires, seven standard air bags, air conditioning, AM/FM/CD/MP3 radio with auxiliary audio input, leather-wrapped steering wheel with audio controls, BLUE&ME handsfree communication technology with USB port, eco:Drive application and iPod control capability, power windows, power door locks, power heated mirrors, speed control, chromed exhaust tip and reconfigurable Electronic Vehicle Information Center (EVIC) with trip computer, miles-to-empty, average fuel economy and tire-pressure monitoring display (TPM).

Fiat's successful small car formula worked then and still works now
Like the original Cinquecento, the 2014 Fiat 500c showcases the brand's ingenuity to build world-class small cars that ignite a spirit of the times through simple design, beautiful craftsmanship and timeless value. As a result, the Fiat 500 has continued to surprise and delight customers worldwide for more than 50 years.

Satisfying the individual mobility need for Italians and other Europeans after the Second World War, the original Fiat "Nuova" 500 line became a catalyst in 1957 for the country of the "poor but beautiful" to be not quite as poor. With almost 4 million examples produced between 1957 and 1975, the small and efficient Fiat 500 succeeded in providing an affordable, comfortable and reliable transportation solution while helping to ignite Italy's post-war economic recovery.

More than 50 years later, and thanks to its stylistic and modern technological features, the modern Fiat 500 represents the spark of another milestone along the lasting process of expansion. And this is where its history started again.
– Fiat Chrysler Automobiles