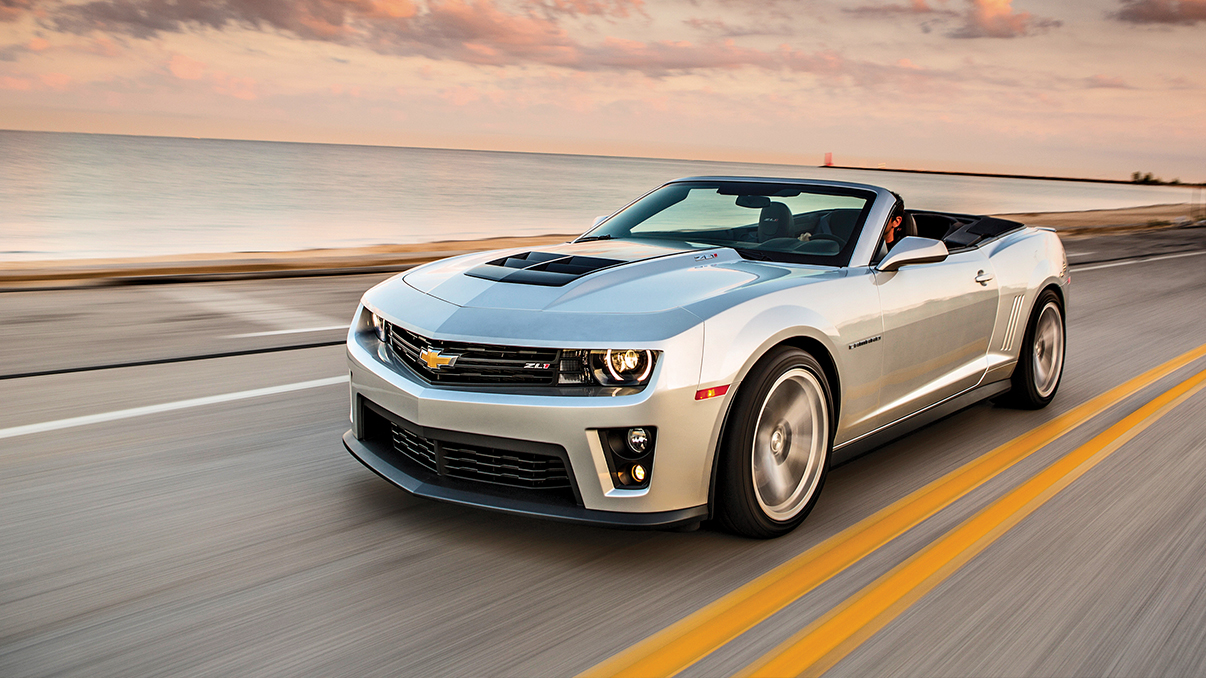 Legendary performance and good looks—commitment material
The 2015 Camaro ZL1 redefined the modern muscle car, tracing its strong presence back to the legendary 1969 production models. Engineered for the most grueling tracks around the world, including world-renowned Nürburgring, where it ran a 7:41.27 lap, ZL1 was built with the track in mind. One tap of the accelerator and you'll feel the intensity of an all-aluminum 6.2L supercharged engine that delivers 580 horsepower and 556 lb.-ft. of torque, immediate proof why it's like nothing you've ever driven before.
The unbridled power of ZL1 is just the start. There's also Magnetic Ride Control, world-class braking and a four-wheel independent suspension. Not to mention Performance Traction Management (Coupe model only), influenced by the Corvette, which lets you choose from five performance settings that adjust for ambient and track conditions, driver experience and vehicle familiarity.
Power Plus Precision
Camaro ZL1 has a history to respect and build upon. That's why the 2015 namesake was designed so everything works together, to give you the perfect combination of power, precision and control.
The fuel system added fuel pickups to maximize the amount of fuel available even under high g-force cornering. The standard Tremec six-speed manual transmission comes with a short-throw shifter for quick precision shifting.
Unlike some aftermarket performance exhausts, the ZL1 dual-mode exhaust enables peak performance at high engine speeds, without drowning out the tunes when you're cruising at a steady speed. But that doesn't take away from its aggressive growl while idling.
This is the kind of fine-tuned modern muscle car that engineers dream about designing and enthusiasts dream about driving. It's so track capable you might just want to start looking for a sponsor.
From the strip to the street
Feel the rush of a 6.2-liter supercharged V8 with 580 horsepower and 556 lb.-ft. of torque. This aluminum-block engine is based on the legendary GM small block V8 architecture and features an intercooled supercharger system and premium heat-resistant aluminum alloy cylinder heads.
It's available with a Tremec 6-speed manual (MG9) or available Hydra-Matic 6L90 automatic transmission. With power you can feel, ZL1 tops out at 184 mph with the available automatic, and covers a quarter-mile of pavement in just 12 seconds.
One more reason you'll get there fast is the standard Performance Traction Management on Coupe. It features launch control that automatically modulates engine torque for the best possible acceleration without excessive wheel spin.
Power to the pavement
From the raceway to the driveway, ZL1 has more control on more surfaces with Magnetic Ride Control. ZL1 was the first car for sale in North America featuring the latest generation of Magnetic Ride—you're not going to find that in many cars. ZL1 has three distinct damper calibrations: Tour, Sport and Track. These shocks employ magnetorheological fluid for damping levels and adjusts up to 1,000 times per second, making the system exceptionally responsive and providing increased wheel control on even the roughest road or the most challenging track by dramatically reducing heave, pitch and roll.
The evolution of Active Handling
For ZL1, the goal was to create handling and control not just for street use, but to enhance acceleration performance under all racetrack conditions. The resulting Performance Traction Management is an advanced system that integrates the Magnetic Ride Control, Launch Control, Traction Control and Active Handling systems. The electromechanically powered steering system in ZL1 is specifically engineered for lower inertia and friction, resulting in a direct steering feel and response.
High-Performance Braking
ZL1 is equipped with a Brembo brake system with massive 14.6-inch front rotors. The unique two-piece design provides excellent fade resistance and is engineered to stand up to repeated high-speed stops. Huge 6-piston monoblock calipers are asymmetrically laid out in the front, with four pistons in the rear. Brake cooling ducts route air from the fascia to the rotor and caliper.
Drop the top, raise the bar
Feast your eyes on the ultimate convertible. Under the hood you'll have all the performance you can handle, including a 6.2L supercharged engine that packs 580 horsepower and 556 lb.-ft. of torque. And then there's that one difference that makes this ZL1 a totally unique thrill ride. When the top comes down, in less than 20 seconds, you won't lose the shape and distinctive style of Camaro. Once you experience this kind of top-down performance for the first time, you might just become a little obsessed with the weather forecast.
— Chevrolet