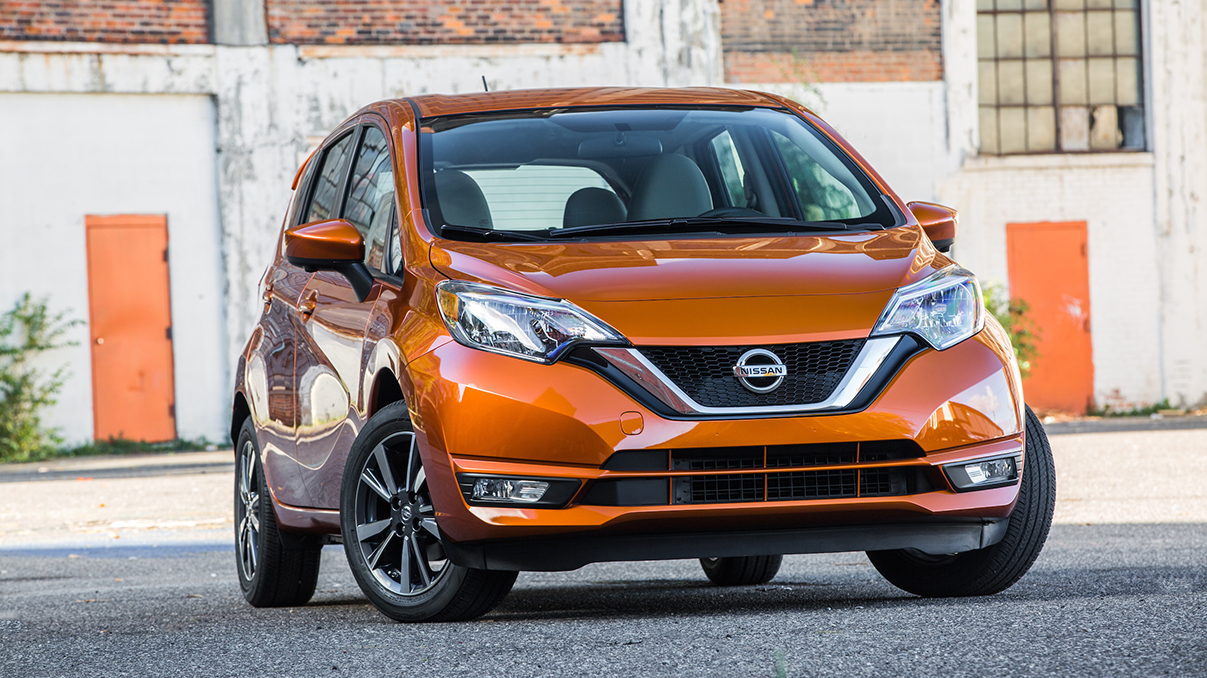 For 2017, Versa Note accentuated its popular forward-looking style even more with a new front fascia, "V-Motion" grille and swept-back halogen headlights. While now sharing a closer family resemblance with Nissan Sentra, Altima and Maxima, the new design retains the vibrant Versa Note personality, especially when wrapped in new Monarch Orange, Deep Blue Pearl or Cocoa Embers exterior colours. In addition, Versa Note S, SV and SL grades receive the sporty rear fascia previously available only on Versa Note SR.
Other enhancements for the 2017 model year include a new wheel cover design for S grades and a revised 16-inch aluminum-alloy wheel design for the SL trim level. Inside, the 2017 Versa Note includes a number of customer input-driven changes, such as larger cupholders and the relocation of the USB auxiliary port to the front of the centre console.
The 2017 Versa Note is offered in a range of four well-equipped models: S, SV, SR and SL. Each model is powered by a 1.6-litre DOHC 16-valve 4-cylinder engine, matched with either a next-generation, Nissan Xtronic transmission, or a five-speed manual transmission (available on S and SV models only). The Xtronic transmission has received new D-Step Logic Control tuning for improved acceleration feel.
New Front End Design Enhances the Open, Aero and Energetic Exterior
Since its introduction in 2013 as a 2014 model, Nissan Versa Note's sculpted styling has been designed to accomplish two things: provide efficient aerodynamics to help enhance fuel economy and to stand out from the crowd of entry-level competitors. Its dramatic shape and proportions provide an energetic look that reflects the active lives of its target buyers.
For 2017, the fresh new front end appearance added to its character with a new fascia and Nissan's distinctive V-Motion grille. Along with its steeply sloped front windshield and deeply sculpted doors, Versa Note featured a dramatic character line called the "squash line." Inspired by the international sport of squash, the line follows the trajectory of a squash ball hitting a wall, bouncing on the court floor and returning to the player. This "rebound path" projects the dynamic energy of Versa Note in both look and driving feel.
Roomy Interior, Class-Exclusive Around View® Monitor
The roomy interior is a perfect match for the stylish Versa Note exterior. The five-passenger Versa Note cabin provides a spacious total interior volume of 112.9 cubic feet and ample cargo space of 18.8 cubic feet. A low cargo area liftover height provides easy loading and unloading of heavy or bulky objects. The interior also offers front headroom of 40.8 inches and rear legroom of 38.3 inches – making Versa Note both adult comfortable and kid friendly.
Enhancements for the new model year include a number of customer input-driven changes, such as larger cupholders, the addition of a second 12-volt outlet for SV, SR and SL trims and the relocation of the first 12-volt outlet and USB auxiliary port to the front of the centre console.
The Right Combination of Power and Efficiency
With entry-level buyers looking for value not just in the initial purchase price but also in day-to-day operation, the front-wheel drive Versa Note is designed to provide a rewarding combination of fuel economy and performance.
Anchoring the powertrain is a 1.6-litre HR16DE 4-cylinder engine rated at 109 horsepower @ 6,000 rpm and 107 lb-ft of torque @ 4,400 rpm. The engine includes a range of cutting-edge technologies, including a dual fuel injector system that allows a wider injection of fuel (versus traditional single injector systems), with the smaller nozzles delivering a spray approximately 57 percent finer than the previous generation single injector design's particle size to help achieve more complete combustion.
- Nissan News