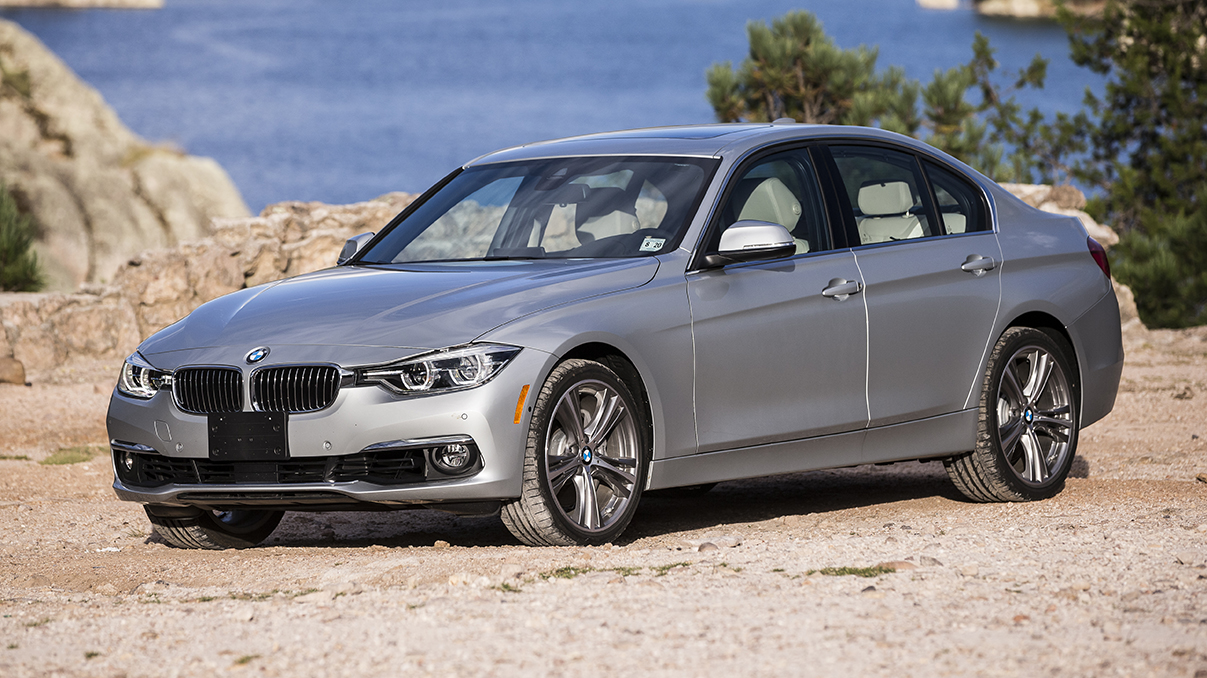 Since making its debut more than 40 years ago, the BMW 3 Series has been the embodiment of the sports sedan. Now in its sixth model generation, the BMW 3 Series Sedan convinces more than ever with agility, precise handling and supreme comfort. The BMW 3 Series Touring combines driving pleasure that is unique in the premium midrange segment with increased interior space and modern functionality.
Edition Sport Line Shadow: Characteristic sign of driving pleasure.
Design and equipment features that are clearly oriented towards characteristic BMW driving pleasure characterize the new Edition Sport Line Shadow. For example, the black inserts for the headlight assemblies and taillights set new and unmistakable accents. They distinctively highlight both the characteristically focused look of the headlamps as well as the brand-typical L shape of the rear light clusters
Edition Luxury Line Purity: Focused on an exclusive appearance.
With the decision to purchase an Edition Luxury Line Purity, drivers of a BMW 3 Series Sedan or a BMW 3 Series Touring will express their fascination for premium quality, exclusive equipment options and individuality. The unmistakable appearance of these edition models is characterized by specific exterior features in satin-finished aluminum, which includes the side windows, air duct inserts, slats and surrounds of the BMW kidney grille, the rear bumper cover and the exhaust tailpipes.
Edition M Sport Shadow: Perfectly prepared for maximum dynamics.
The Edition M Sport Shadow version of the BMW 3 Series Sedan and the BMW 3 Series Touring stands for vehicle dynamics that are predominantly strongly focused on high-performance. In addition to black headlamp units and dark taillight inserts, a black BMW kidney grille and exhaust tailpipes in Chrome Black, LED fog lamps and black inserts for the three-part lower air intake contribute towards the car's distinctly expressive appearance.
LED headlights and LED fog lamps as standard as well as new options for all model variants of the BMW 3 Series Sedan and the BMW 3 Series Touring.
Coinciding with the market launch of the three new edition models, there will be a wider choice of individually selectable special equipment options for the BMW 3 Series Sedan and the BMW 3 Series Touring. In the future, the standard equipment will include not only include LED headlights, but also LED fog lamps. The variant Sunset Orange will be available as a new body colour. The equipment range for the models Sport Line, Luxury Line and M Sport now also includes a dashboard with the distinctive contrasting seam.
Commitment to Safety
Following BMW's commitment to safety, the BMW 3 Series Sedan underwent a series of small overlap enhancement measures for its 2017 model year. The IIHS evaluated this new 3 Series in December of 2016 receiving a "GOOD" rating in the tough small overlap crash test, ensuring the 2017 BMW 3 Series Sedan a TSP+ grade.
- BMW Group