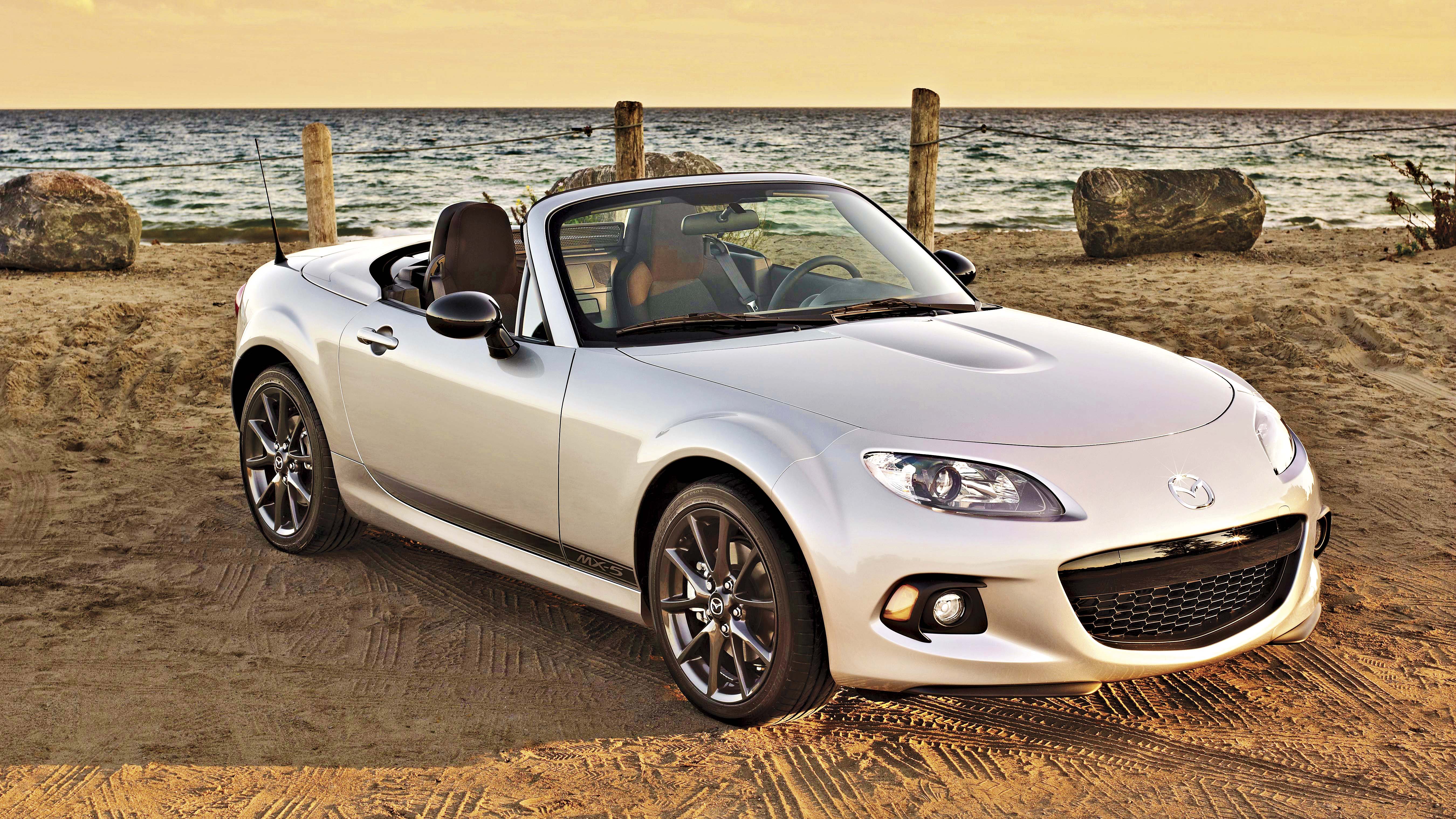 Affordable and tuned to produce driver happiness
The 2015 MX-5 is as uncomplicated and pure as a sports car can get. Since the two-seater entered the marketplace 25 years ago, the MX-5 has defied the convention that sports cars, particularly convertibles, were pricey, unattainable flights of fancy reserved for those with deep pockets. However, enthusiasts come in all shapes, all ages, and with a variety of pocket sizes so it is no wonder that with more than 900,000 units sold, the MX-5 is by far still the best-selling two-seat roadster in the world, and with the Guinness World Records to prove it.

At the heart of the 2015 MX-5 remains the highly responsive MZR 2.0-liter DOHC four-cylinder engine with an output of 167 horsepower at 7,000 rpm (158 horsepower at 6,700 rpm for automatic-equipped models) with 140 lb-ft of torque at 5,000 rpm. The sophisticated, sturdy engine is light and compact, offers strong performance and unmatched responsiveness for its nearly 50:50 weight distribution of the already compact roadster. With a 7,200-rpm redline (6,700 rpm in automatics), the flexible engine delivers driving exhilaration throughout the rev range. Reacting to driving commands with lightning-quick reflexes and progressive power delivery are linear keys to MX-5's stellar driving controls.
An Engine that Roars
A thrilling engine growl adds to the already intoxicating joy of the MX-5's handling capabilities. The original 1.6-liter engine-equipped 1990 model was tuned to mimic the sound of dual-carbureted sports cars of the 1960s, and thus the classic sound has been a hallmark of the Mazda Roadster. The key to a fuel-injected engine sounding identical was the careful tuning of intake resonance, and directing the engine's air intake toward the driver so that the pleasing audio reverberates with full effect. However, while the first-generation MX-5 did just that, it also drew in hot under-hood air from behind the radiator. Introduced in 2006, the third generation MX-5's engine pulls in cold air from the nose of the vehicle for better efficiency, but creating that classic induction sound now requires the assistance of new technologies.
Fuel Efficiency
Fuel economy for the five-speed manual-equipped GX models is rated at 9.2 city/7.1 highway litres per 100 kilometres (L/100km). For all models outfitted with a six-speed manual transmission, fuel economy is rated at 9.7 city/7.1 highway L/100km. When paired with the six-speed automatic transmission, the MX-5 can achieve an estimated L/100km rating of 10.0 city/7.1 highway.
Safety Features
All 2015 MX-5's include an extensive list of safety features, including: Anti-lock Braking System (ABS) with Electronic Brake-force Distribution (EBD), Dynamic Stability Control (DSC) with Traction Control System (TCS), side-impact door beams, advanced dual front airbags, side impact airbags, seatbelt pre-tensioners, and engine immobilizer anti-theft system.
The 2015 MX-5 is equipped with Mazda's Brake Override system. This system always prioritizes the brake pedal over the accelerator pedal, should both be engaged simultaneously, allowing the vehicle to be brought to a safe stop every time. Activation of this system is recorded in the electronic Powertrain Control Module (PCM).
- Mazda Canada Inc.