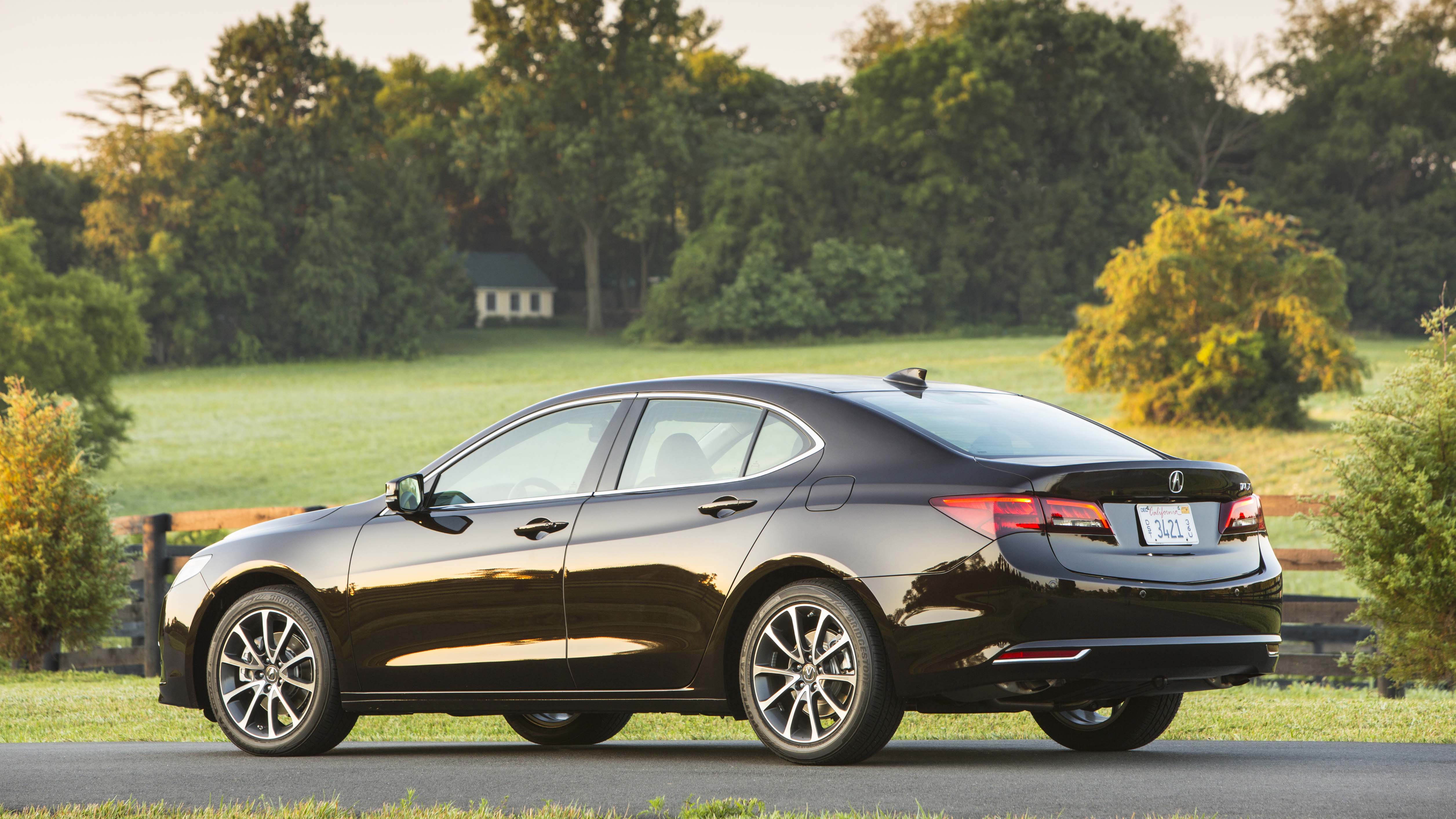 Acura continues to advance its reputation as a safety leader and innovator with the 2015 Acura TLX receiving a 5-Star Overall Vehicle Score, the top available rating in the U.S. government's New Car Assessment Program (NCAP), including 5-stars in all nine vehicle test modes. The Acura TLX performance luxury sedan, introduced in August 2014, has quickly become one of Acura's best-selling vehicles. It is one of only three 2015 model cars in the midsize luxury/near luxury, a category to earn both the Insurance Institute for Highway Safety (IIHS) TOP SAFETY PICK+ rating and the NHTSA 5-Star Overall Vehicle Score.
Design and Packaging
For sports-sedan dynamic capabilities, the 2015 TLX is 97 mm shorter in overall length than the 2014 TL while maintaining the same wheelbase and tandem (front-to-rear) passenger-seating distance. The TLX's front and rear overhangs are also shorter by 97 mm in total compared to the outgoing TL. The TLX engineers worked diligently to make the TLX lighter, incorporating a broad range of high-strength steel and lightweight materials in the design. As an example, the TLX two-wheel-drive with the 3.5-litre V-6 Technology Package model has a curb weight just under 1633 kilograms, about 66 kilograms lighter than the TL Technology Package model.
Interior
The TLX's spacious five-passenger interior is designed and engineered to underscore the "Red Carpet Athlete" development theme of the new TLX, providing a high degree of refinement, luxury comfort and technological sophistication while supporting an exhilarating driving experience. High-end premium elements include a soft touch, one-piece instrument panel upper cover, alloy and wood-grain accents, and available Milano leather seating surfaces and interior trim.
New TLX Powertrains
At the heart of the TLX's powerful sports-sedan performance capabilities are two new powertrains, utilizing direct-injection, i-VTEC valve trains with Variable Timing Control (VTC) or Variable Cylinder Management (VCM) and low-friction technologies to deliver higher output, more linear and responsive power delivery and anticipated class-leading fuel economy ratings.
Acura Precision-Handling Technologies
Two-wheel-drive TLX models, with either the 2.4-litre or 3.5-litre engine, come equipped with the latest iteration of Acura Precision All-Wheel Steer (P-AWS). This new P-AWS system was integrated into the fundamental chassis design from the earliest stages of development, allowing engineers to take full advantage of its independent left and right rear-wheel toe angle control to enhance handling precision, manoeuvrability and stability.
Safety and Driver-Assistive Technologies
The TLX also advances Acura's reputation for delivering cutting-edge safety and driver-assistive technologies. The TLX incorporates a new cooperative monocular camera and millimetre wave radar system that expands both the fidelity and scope of the vehicle's road-sensing capabilities. This fusion of camera and radar technology underpins the TLX's available Collision Mitigation Braking SystemTM, which can now provide enhanced car-to-car and car-to-pedestrian collision mitigation while also enhancing the capabilities of the Adaptive Cruise Control.
All-New TLX Body and Chassis
The TLX is built on an all-new platform (body and chassis) that was designed from the ground up to support and enhance the vehicle's outstanding driving dynamics, luxury-sedan refinement, class-leading fuel efficiency and high-level collision safety.
The chassis features a newly designed four-wheel independent suspension system – McPherson Strut front and multi-link rear – with revised geometry and new Amplitude Reactive Dampers for improved ride comfort and handling performance. New Motion-Adaptive Electronic Power Steering delivers a high level of steering precision and responsiveness while aiding fuel efficiency. It also works cooperatively with the vehicle's VSA traction-control system to help the driver maintain vehicle control in slippery road conditions.
- Acura Canada Media Room