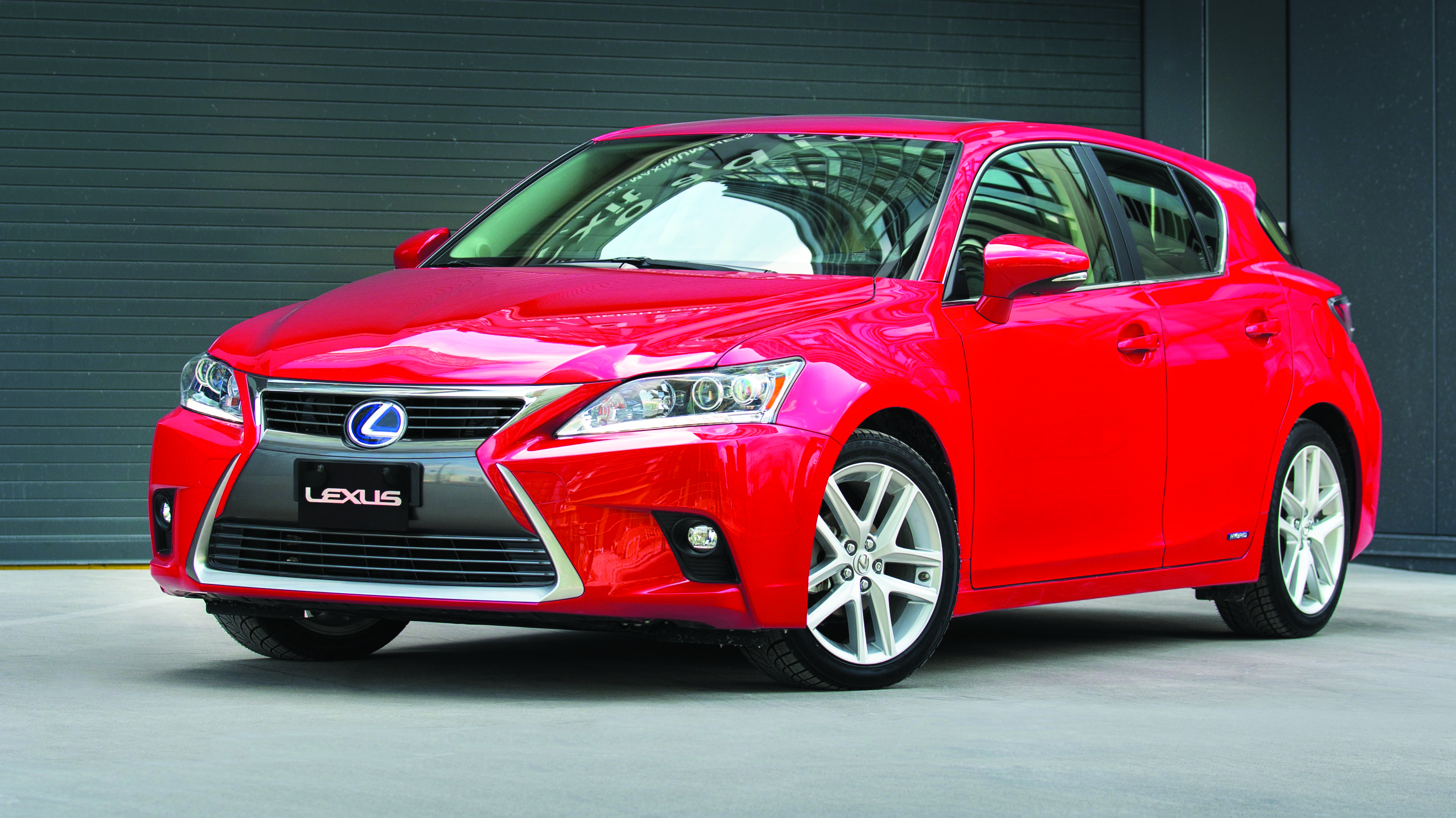 In 2014, Lexus revealed the CT 200h. This compact luxury hatchback offered more dynamic, sophisticated exterior styling, a refined interior with upgraded equipment, and an enhanced driving performance. In addition, F SPORT version was noticeably distinctive with a stronger differentiation.
Dynamic, Sophisticated Exterior Design
The front of 2014 CT 200h introduced the Lexus 'spindle grille' design. The center had been pushed forward to create a powerful, more three-dimensional form. The bottom corners were spaced wider and the spindle 'pinch point' was lowered, reinforcing the CT 200h's low front profile and wide, sporting track.
Its spindle shape was emphasized by a dark finish and upper chrome. The grille was positioned lower than the headlamps to create the resolute look of every Lexus.
Refined Interior Design and Upgraded Equipment
The 2014 CT 200h interior was refined to offer enhanced levels of equipment and improved visual and tactile quality.
The driver now benefited from a 370 mm diameter steering wheel. The central TFT multimedia display screen was made thinner, and the second generation Remote Touch Interface (RTI) featured a new, more user-friendly push entry control switch.
The Lexus Display Audio (LDA) and Electro Multi Vision/Navigation (EMV/N) multimedia systems featured added functions, improved operability and enhanced hands-free and voice recognition control. The former featured a new, center-console-mounted controller.
Enhanced Driving Performance
The 2014 CT 200h combined increased body rigidity, suspension revisions and enhanced aerodynamics with comprehensive NVH (Noise, Vibration and Harshness) measures to offer a more agile, engaging driving performance and an even quieter cabin environment.
Body rigidity has been improved through additional spot welding and the extensive use of structural adhesive technology.
Increased body rigidity allowed for suspension re-tuning. Coil spring rates were optimized, a new shock absorber valve adopted, and the rear stabilizer bar diameter altered to enhance ride comfort with no loss of handling agility.
Complementing the inherent quietness of the Lexus Hybrid Drive powertrain, no less than 94 separate measures were adopted to further reduce NVH. A Lexus hybrid first, a new inlet duct design realized both excellent intake efficiency and a high level of quietness.
Distinctive F SPORT Design
The 2014 F SPORT was designed with a more powerful road presence, to give a stronger differentiation between it and other versions of the CT 200h model range.
The new spindle grille design featured the same sporting, aggressive mesh pattern as that of the 2014 IS F SPORT, which is reversed between the upper and lower sections. The fog lamp housings share the same mesh finish, and are underscored with a fin also finished in black.
To the rear, an exclusive roof spoiler featured cut-outs to provide additional downforce for even greater grip and stability.
17", 10-spoke alloy wheels featured an F SPORT-unique surface treatment. The vehicle was available in a choice of 5 exterior colours including F SPORT-exclusive White Nova. The F SPORT interior featured exclusive upholstery, ornamentation and trim.
The F SPORT featured all the driving performance enhancements of the 2014 CT 200h model range. In addition, it benefited from bespoke coil spring settings and optimized front/rear roll rigidity distribution to further enhance its sporting driving dynamics.
- Lexus Canada Newsroom