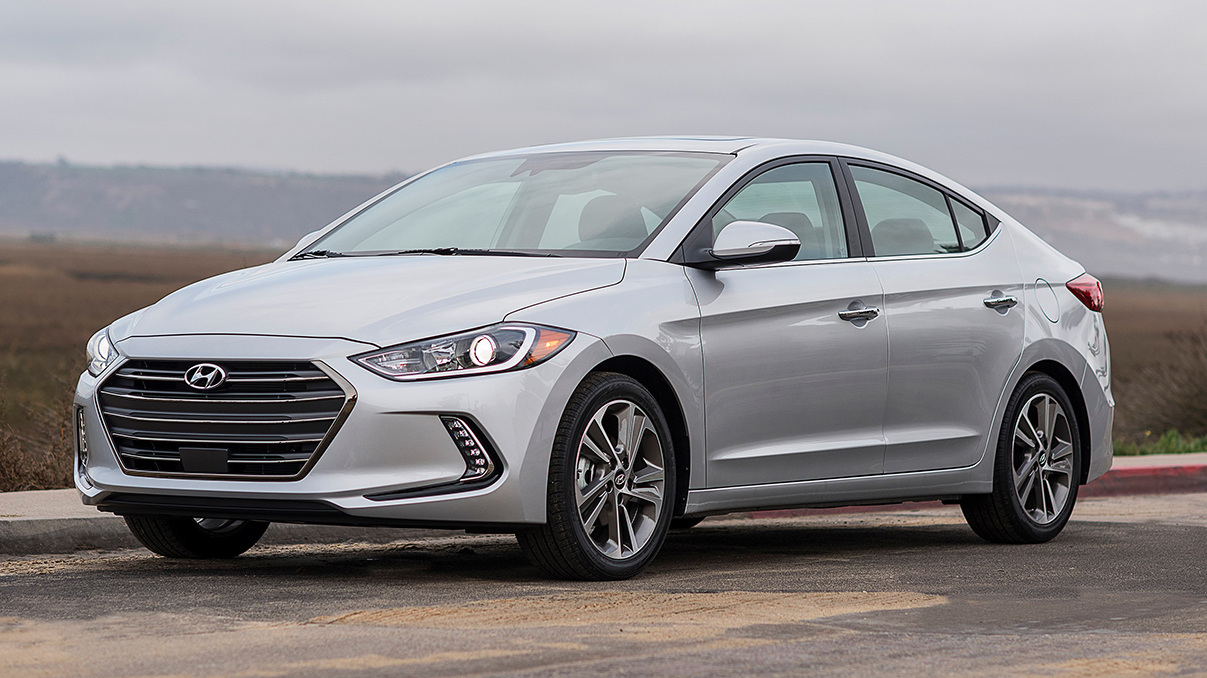 The 2017 Hyundai Elantra arrived in dealerships in January of 2016, featuring a bold aerodynamic design, a comprehensive suite of safety features, modern interior styling with class-above features, and a number of user-friendly technologies. The Elantra continues to be one of Hyundai's all time best-selling models, known for its significant value advantage in a highly competitive compact car segment.
CONFIDENT EXTERIOR
The 2017 Elantra projected confidence with sculpted body forms complemented by smoothly contoured lines that reveal the underlying inspiration of Hyundai designers. Inspired by the concept of dynamic precision, Elantra's architecture was a perfect platform for collaboration between Hyundai designers and engineers to blend advanced styling with functional aerodynamics.
From the front, the 2017 Elantra is defined by Hyundai's signature hexagonal grille that projects a distinctive character when combined with its modern lighting signatures, including available HID headlights with Dynamic Bending Lights and unique vertical LED daytime running lights, which are firsts for Elantra. Elantra's sporty lower front fascia integrates functional front wheel air curtains, a component derived from the Sonata Hybrid that helps manage air flow from the front of the vehicle and around the wheels to minimize turbulence and wind resistance. In addition, underbody covers, an aerodynamic rear bumper bottom spoiler and rear deck-lid designed with an expanded trunk edge contribute to Elantra's 0.27 coefficient of drag.
MODERN INTUITIVE INTERIOR
On the inside, the 2017 Elantra continued to depict a modern, driver-oriented design optimized for intuitive control, improved interior roominess, high-quality materials and premium technology features. The contemporary interior design integrated premium soft-touch materials in key touch points and high-tech details to create an inviting and comfortable interior environment for all passengers.
The wide design of the instrument panel provided a feeling of spaciousness and is available with a 4.2-inch colour TFT LCD instrument display for improved driver visibility and functionality. The rest of the center stack is laid out in a horizontal design with buttons and controls placed in logical groups by function, and a slight seven-degree tilt toward the driver for optimal ergonomics. Available premium convenience features such as a segment-first integrated memory system for the power driver seat and side mirrors, dual automatic temperature control with auto defogging system and auto-dimming rearview mirror further enhance driving comfort, along with advanced ergonomic front seats. The front seats feature high-tension lightweight seat frames for improved performance in collisions, and a multi-firmness seat pad to help reduce driver fatigue over long distances.

REFINED & RESPONSIVE CHASSIS
The 2017 Elantra is lighter than the outgoing model, and its rigid chassis is now reinforced with 53 percent advanced high-strength steel compared with 21 percent from the previous model, providing improved stiffness at a lower body weight. This increased usage results in a 29.5 percent stiffer torsional rigidity and 25.3 percent greater bending strength, which bring improvements in vehicle ride and handling, quietness, durability and driving performance. Furthermore, the 2017 Elantra increased structural adhesive application 40 times at higher stress points on the chassis and to reinforce welding areas. A component often found in aerospace applications, these structural adhesives also contribute to improved NVH and vehicle dynamics due to extra stiffness in the chassis.
- Hyundai News